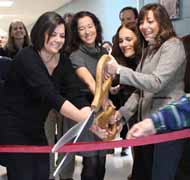 Mission Statement
The mission of the Weston Senior Activities Center is to serve as the hub of programs and events supporting the well being of community members as they age.
History
The story of the Weston Senior Activities Center began in the 1970s when a group of volunteers established a weekly senior luncheon at the Norfield Church Parish Hall. Over the span of more than two decades, pre- and post-lunch activities were added but the project remained an informal, all-volunteer effort.
A major change occurred during the late 1990s when Weston's first part-time Center director was hired, leading to an expansion of programs and the beginning of a Center newsletter. Over the next few years a new Center director, eventually supported by a part time program coordinator, developed more programs and activities, including regional trips.
During 2006 an agreement between town and school officials gave the Center its first real home in two unneeded classrooms in the South House of Hurlbutt Elementary School. The change led to a more independent Center identity and new programming opportunities.
Since 2011 the Center has grown both physically and programmatically. With guidance from a new director and program coordinator, the original Center rooms were reorganized and remodeled and soon afterward additional South House space became available for Center use. Then, in 2014, a landmark five-year agreement between town and school officials virtually doubled the Center's South House area and available parking. A second program coordinator joined the staff to help with additional activities as the expanded facility was transformed into the Center as we know it today. The 'new' Center was officially introduced to the community at a ribbon-cutting ceremony in early 2015.
The Center has a four-decade record of service to Weston seniors. Its growth over the years has been made possible by the commitment of town and school leaders and the enduring support of individuals and community group volunteers, including the Friends of the Weston Senior Activities Center. The Center now has in place the staff and facilities to fulfill its mission of becoming an increasingly valuable hub of activities and events for Weston residents as they age.